Head of laboratory – Dr. Rita Veilande
Researcher group:
Senior researcher, Dr.phys. Rita Veilande (SCOPUS Author ID: 6506753619)
Senior researcher, Dr.hab.phys. Imants Bersons (SCOPUS Author ID: 55938619500)
Senior researcher, Dr. Teodora V. Kirova (SCOPUS Author ID: 12759956200)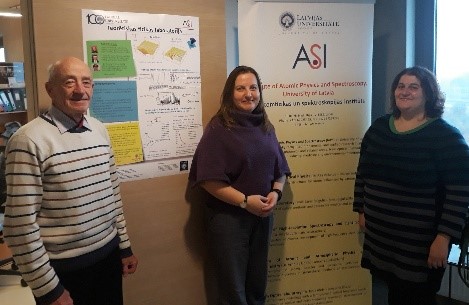 Main directions of scientific work:
calculations of energy structures for atoms and molecules affected by various external fields;
mathematical description of photon;
studying new non-linear equations for space-localized, three-dimensional electromagnetic solitons;
development of theoretical models for quantum and nonlinear optics using Rydberg – State atoms: Rydberg EIT, dipole blockade in Rydberg media;
Rydberg atom localization with spatial dependent fields and light vortices;
development of theoretical models for cavity-assisted transport of energy and charge in mesoscopic molecular systems;
theoretical and numerical models for the impact of radiation on amino acids;
Spectrum modelling for vitamin D2 and D3.
Completed projects:
Trilateral grant of the Latvian, Lithuanian, and Taiwanese Research Councils Quantum and Nonlinear Optics with Rydberg-State Atoms", (2016-2018)
Latvia-France Partnership Program OSMOZE Project "Electromagnetic field-control of the blockade/antiblockade effect in Rydberg ensembles" (2016-2017)
Publications for the last years (in revised scientific journals):
N. Jia, J. Qian, T. Kirova, G. Juzeliūnas, and H. R. Hamedi "Ultraprecise Rydberg atomic localization using optical vortices", Optics Express 28(24), 36936-36952 (2020).
T. Kirova, N. Jia, S. H. Asadpour, J. Qian, G. Juzeliūnas and H. R. Hamedi "Strongly confined atomic localization by Rydberg coherent population trapping", Optics Letters 45(19), 5440-5443 (2020).
I.Bersons, R.Veilande and O.Balcers "Model of Compact 3D Electromagnetic Solitons" Phys.Scr.95 (2020) 025203.
V.Lukinsone, I.Kuzmina, R.Veilande, E.V.Plorina, D.Bliznuks, K.Bolochko, A.Derjabo, I.Lihacova, J.Spigulis "Multispectral and autofluorescence RGB imaging for skin cancer diagnostics", Progress in Biomedical Optics and Imaging - Proceedings of SPIE, Volume 11065 (2019) 110650A.
M.Arzamasovs, D.M.Gangardt "Full Counting Statistics and Large Deviations in a Thermal 1D Bose Gas", Phys. Rev. Lett. 122 (2019) 120401.
T. Kirova, A. Cinins, D. K. Efimov, M. Bruvelis, K. Miculis, N. N. Bezuglov, M. Auzins, I. I. Ryabtsev and A. Ekers "Hyperfine Interaction in the Autler-Townes Effect: the Formation of Bright, Dark, and Chameleon States", Phys. Rev. A 96, 043421 (2017).
I.Bersons, R.Veilande and O.Balcers "Soliton model of a photon propagating in dielectrics" Phys.Scr.91 (2016) 065201.
I.Bersons, R.Veilande "Nonlinear models of electric charge and magnetic moment", Found Phys 45 (2015) 1526.
I.Bersons, R.Veilande and A.Pirktinsh "Three-dimensional collinearly propagating solitons", Phys. Scr.89 (2014) 045102.
I.Bersons "Soliton model of the photon", Latv. J. Phys. Techn. Sci. 2 (2013) 60.